"Rather than impede or freeze motion, Marey wanted to capture data at discrete regular intervals which could then serve to reconstruct (one wants to say deconstruct) the original action." (p. 85)
Marey was more interested in the discrete pieces that made up an object rather than the complete whole. It is said that his work was a prelude to cinema, but in many ways Marey was ahead of the technology introduced by the motion picture. The easiest way to depict this is to understand the difference between analog and digital. Analog is continuous while digital is the conglomeration of discrete intervals. There is no string of numbers that code the functions of an analog device, there is only fluid motion: natural, chemical or mechanical. When thinking of an analog clock, we think of the gears that make the clock hands move.
By looking at the individual stages of an object or a phenomena, Marey had the ability to truly understand its existence, how it came to be and how it was put together.
When we look at a flower, we see a flower. But if Marey were to look at a flower he would see it's entire lifespan. How it started, what it looks like now, and what it is going to be. In other words, he would see the discrete intervals of time that passed to make the flower what it is.
The following depiction of Zeno's paradoxes shows how a finite length (which includes time- a line in space) can be divided into an infinite number of pieces, all with a length of zero.
Sol LeWitt represents a similar idea to Marey in his "A Wall Drawing Retrospective." By recording a timelapse of the construction and painting of a wall, LeWitt shows the individual intervals of work and time that make up the finished product.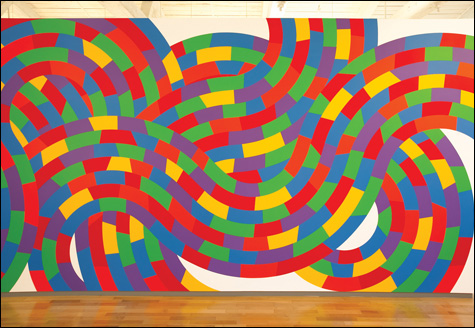 Watch the timelapse:
http://www.massmoca.org/lewitt/timelapse.php?id=1
This a link to a youtube video of a Monarch Butterfly Pupatation Timelapse. If Marey's work had developed as far as digital media, his work work have been similar to a timelapse; it would depict each interval of life.
http://www.youtube.com/watch?v=wv2MXXVrjw0
Marey's ideas are very similar to a "flip book". Each image is a fragment of the whole book, drawn on its separate page, but when you flip through the book at a rapid pace, the images appear in a fluid motion.
Sources:
http://www.jimloy.com/physics/zeno.htm
http://www.massmoca.org/lewitt/timelapse.php?id=1