Within Harvard University's Graphics, Vision and Interaction (GVI) department researchers Ayan Chakrabarti and Todd Zickler are experimenting with hyperspectural images. In order to fully understand the concept, I started by researching:
What is spectral imaging?
Spectural imaging is 'a branch of photography in which a complete spectrum is collected at every location at an image plane.' In other words, a spectral image consists of various images of the same object, taken at differing parts of the light spectrum.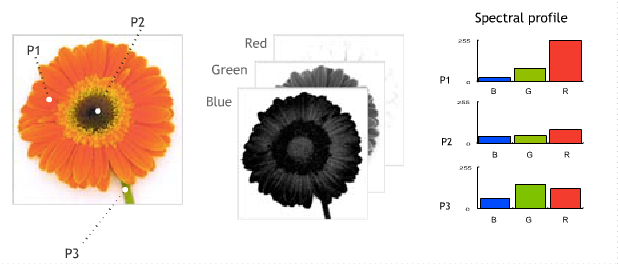 A hyperspectural image, like other spectural imaging, collects and analyzes data from across the electromagnetic spectrum. While the human eyes only see in three bands (red, green, and blue), which compose 'visible light,' hyperspectural imaging seeks to analyze data that is extended beyond this limited range of sight. Hence, hyperspectural imaging consists of a greater range of images than spectral images because hyperspectural images include infrared and thermal ranges, which again, cannot be seen by the naked eye.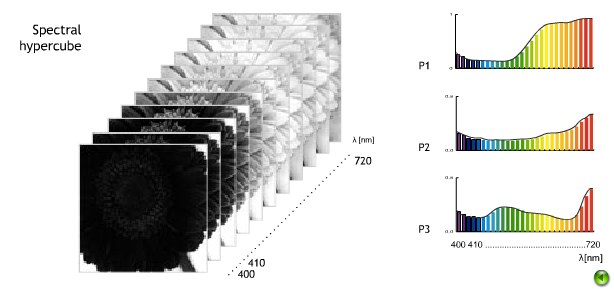 More so, 'vision systems,' which record hyperspectural data, can include a range of processing systems to built sensors. From these hyperspectural sensors researchers can analyze and categorize objects based on a 'fingerprint,' or spectural signatures, that they leave. This enables researchers to identify the objects based on the materials that make up the scanned object. (wikipedia) In the long term, hyperspectural imaging (along with its' counter partner multispectral imaging, which measures reflected energy levels) would enable, for instance, NASA to extensively map and remotely sense the surface of the sun. As of today, hyperspectural data is used in military surveillance to produce thermal data in the dark and inter-mountain range typographic maps.
Thus, the aim of Harvard's research is to use these 'vision systems' in order to create statistical models of natural, everyday hyperspectural images. In doing so, researchers hope further exploit the full benefits of hyperspectural data.
To collect the statistical data, Harvard researchers composed a database of fifty hyperspectural images, taken indoors and outdoors in the daylight, and a further twenty-five images under artificial light. Each image was filtered through a series of thirty-one narrow wavelength bands. In previous studies, the analysis of real- world spectra have been limited to collections of point samples, or in other words, hyperspectural sensors only collected a small sample of light and heat from specifically selected targets. Today, Chakrabarti and Zickler seek to consider that the spatial and hyperspectural dimensions jointly uncover additional structures. Thus, whereas most spectral images are represented as a 'data cube' or a small segmented cube of differing images, Harvard's studies seek to provide a broader range of information by referencing the image as a whole, and overlapping each image to produce a wider scene of information.
In terms of my own interests, I researched hyperspectural imaging as a resource in restoring photographs. In recent years, much of the artwork I produced draws heavily from historical references in the past; whether that be using excepts of old library books, recovering old family photographs, or using pieces of old parchment paper. In using such pieces within my work, it is inevitable that run into the problem of time. Over time features on photographs, manuscripts, and other materials are often damaged, and thus, unusable in my work. Hyperspectural imaging, as is used by the US Library of the Congress, would allow me to look at documents at 'various magnification levels and in various types of light (raking, transmitted and different wavelengths.)' By doing so, I could capture some of these 'elusive features' that had been lost due to time, wear, or environmental factors.
http://gvi.seas.harvard.edu/paper/stati ... ral-images
http://en.wikipedia.org/wiki/Spectral_imaging
http://en.wikipedia.org/wiki/Hyperspectral_imaging
http://www.vision.uji.es/~essys/what.html
http://www.loc.gov/preservation/scienti ... aging.html