Before coming into this class, I already had some background knowledge of the camera obscura from my Visual Cultures class in the History of Art and Architecture Department. After pursuing information on it through the internet, I gained a more in-depth knowledge of the camera obscura.
The camera obscura was revolutionary. It drastically altered how people were approached and looked at what used to be just ordinary, everyday objects. First used to project images to help artists create artworks faster, it quickly developed into the pinhole camera, the precursor to the camera as we know it today. The camera bscura came in many shapes and sizes, some were big enough for multiple people to sit in and enjoy. There are many versions of the camera obscura that have been made by many people throughout history, such as the box form by Johann Zahn, so it is hard to say who first invented it.
(box camera obscura by Johann Zahn)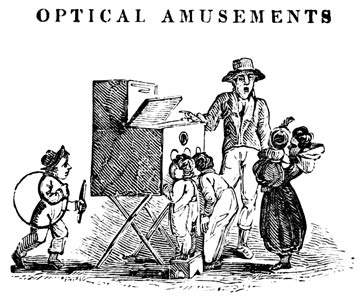 Camera obscurae are still used today, mostly as art installations or tourist attractions. Edinburgh's camera obscura, for instance, offers five different floors of camera obscuras offering a variety of optical experiences while photographer Abelardo Morell turns whole rooms into camera obscurae and turns them into various landscapes.
(Abelardo Morell)
Sources:
http://physics.kenyon.edu/EarlyApparatu ... scura.html
http://ngm.nationalgeographic.com/2011/ ... neill-text
http://www.camera-obscura.co.uk/
http://brightbytes.com/cosite/what.html
(submitted before the forum was open)