In "Marey, The Analytic, and The Digital" UCLA Film Professor, Steve Mamber, suggests that Etienne-Jules Marey was a classic figure in forming design and pre-cinema. Truth of the matter is, Mareys' obsession with representations and measurements inclined him to develop new works in the realm of digital media. In succession, he created tools for visualizing and explaining how individuals can break down complex physical processes and discretely analyze them. His works evolved into graphical representations, temporal charts (chronophotographs), and photographs over time (chronophotographs).
At the height of his career, Marey developed the chronophographic gun, a device that recorded complex movements. The chronophotograph broke down continuous, on-going activities into sets of measurable, discrete components. The gun captured discrete variations of a single act that would serve to reconstruct/ deconstruct an original action. Marey, as a designer wanted to create a device that would "reveal the hidden." He conceptually displayed traces of movement hidden or obscured by everyday perception. By compressing visual information, Marey was able to arrange illusive movements, complex patterns, and subtle temporal-spatial relationships in compelling new ways. "Marey's ideas of movement lead to a view only now just being realized, but which was essential to his own notion of cinematic form."
As Marey recorded the barely measurable, and transformed it into discrete variations, the analog gave way to the grid. "The numerical calculus of movement became points in time and space to be represented, traveled through, reconfigured, and transformed." By bringing us closer to everyday perceptions, Marey's digital media brought us a step toward the analytic, and away from the mechanical photographic reproduction of movement, which was seen to constitute cinema.
We can relate Anton Giulio Bragaglia to Etienne-Jules Marey because he was also a pioneer during the time in which he lived. His futurist photographs exert strength in response to new mediums. In 1906 he gained a great deal of technical and artistic experience while working for his father's cinema studio. Like Marey, Bragaglia wanted to eradicate the past in favor of a new modern life. Artists who worked in traditional media such as painting and sculpture had a more difficult task, compared to photographers, such as Bragaglia, who worked with a mechanical tool. His photographs marked the point of a total revolution, aimed at awakening Italy from its museum orientation. Allowing this to occur were new machines produced for speed and developed for the masses. Bragaglia saw relationships between scientific technology and his imagination at the level of metaphysics. Photography soon became the aesthetic and psychological model for futurists throughout the world, for they believed machines created a foundation for their new civilization.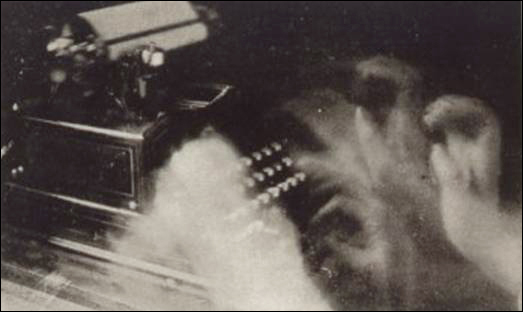 http://tracesofthereal.com/2011/01/24/t ... odynamism/
http://www.tumblr.com/tagged/anton-bragaglia
http://nickgarrettfeed-noise.blogspot.c ... marey.html